Memória Chapel in Nazare
Built in the 14th century, over the legendary cave of Nazare, the Memória Chapel, like the Nossa Senhora da Nazare Sanctuary, is linked to the Legend of Nazare and the unavoidable D. Fuas Roupinho.
The roof of the vault of Memória Chapel is also covered with figurative tiles depicting D. Fuas Roupinho, which you cannot fail to contemplate.
Its connection to the Legend of Nazare makes Memória Chapel one of the most visited places not only by pilgrims but also by tourists and the curious, and a visit to the place is mandatory.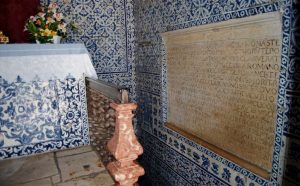 Its classification as a Property of Public Interest in 1993 attests to its importance and significance, making it an attraction not to be missed.
Built in Sítio da Nazare, near the Chapel, you can also contemplate the Nossa Senhora da Nazare Sanctuary, the Chaby Pinheiro Theater, the Dr. Joaquim Manso Museum or the Royal Palace.
You can also discover the remains of the Muralha do Sítio, watch the cultural activities taking place in the Bandstand or simply enjoy the magnificent views that the Suberco Viewpoint and the Fort of São Miguel Arcanjo offer.
To get there you can take advantage of the Ascensor or the Ladeira.