Fort of São Miguel Arcanjo
Fort
Forte de São Miguel Arcanjo, Nazaré
Built in the 16th century, more specifically in the reign of D. Sebastião, the Fort of São Miguel Arcanjo is an example of military architecture and whose mission was to monitor the sea coast.
The coastal fortification network was integrated in the scope of the Restoration of Independence in the following century, when at the initiative of D. João IV it was increased.
At the beginning of the 19th century, the Fort of São Miguel Arcanjo was the central stage during the French Invasions, having been occupied, and shortly afterwards it also stood out during the liberal struggles, still maintaining traces of the changes experienced during that period.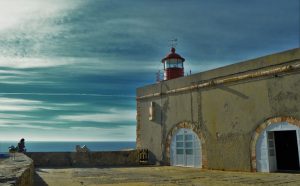 At the beginning of the 20th century, the lighthouse was installed to aid navigation, an infrastructure that they still maintain today.
Located on the Promontory of Sítio da Nazaré, the Fort of São Miguel Arcanjo is a building classified as a Public Interest Building, Decree since 1978 and that in recent years has gained tourist visibility as an observation point for the giant waves of the Cannon of Nazaré and immortalized by Garrett McNamara. You don't want to miss this wave!
Nearby, you can admire the magnificent view that the Sítio da Nazaré Suberco Viewpoint gives you over Nazare Beach, which you can access by the Ascensor or by the Ladeira.